Tropical Island Meets Olympic Ice Sliding
Update 2: A Gold Sweep!
December 11th, 2019
Three more races completed and I walked away with a podium sweep! After some unexpectedly tough competition from the Chinese team, I added three gold medals to the season's total, and am now five for five in podium finishes this season. These were the first gold medals for American Samoa in a winter sport, and the Salt Lake Tribune had a great writeup on it.
I've got a brief holiday break, then I'll be packing up all my gear and heading across the pond to Europe for more racing and stiffer competition. The season's goal of qualifying for the 2020 World Championships in Germany is within reach.
Update: Making A Bit of Sports History
November 23rd, 2019
Two races down and two medals won! Despite a troublesome start to the competitive season (first, the Park City track's refrigeration system broke down, which prevented early season training at the Utah Olympic Park, and second, my sled was lost in Chicago on my way to Lake Placid, NY, which prevented training before the races), I'm thrilled to announce that I walked away with two podium finishes! In the first race I won a silver medal, behind a Chinese racer and ahead of a German, and then in the second race I won a bronze medal, switching places with the German. More importantly though, these are the first ever medals won for American Samoa in international winter-sport competition! I'm honored to have that tiny slice of sporting history to my name.

A podium finish in Lake Placid to kick off the season.
Next up are races in Park City, UT, before the holiday break. Hopefully the podium streak continues!
The Cool Runnings Redux
October 30th, 2019
Have you seen Cool Runnings? The classic 90's Disney movie starring John Candy? It's about 4 Jamaican track athletes turned wannabe bobsledders attempting to qualify for the Calgary Winter Olympics.
Well, get ready for a 21st Century IRL re-creation: The tiny South Pacific territory of American Samoa wants to send its first skeleton racer to the Winter Olympics in Beijing 2022.
And we need sponsors, partners, and fans to join us on this journey.
"Uhh, so who are you?"
That's me, competing at the World Championships in Innsbruck, Austria in 2016, where I finished as USA #1 and World #8.
My name is Nathan Ikon Crumpton, and I'm a washed up former NCAA Div I track & field athlete turned world class skeleton racer. I spent the last 8 years competing for Team USA and, against all odds, I became the most accomplished racer on the team. To date, I have the most top-10 World Cup finishes, highest World Cup finishes, and highest World Championship finish of any active American men's skeleton racer.
(Need a refresher on skeleton racing? Here's a 3 minute highlight clip from my rookie year on World Cup...)
And now I want to share the thrill of sliding head first down ice chutes with an entirely new audience and a less celebrated part of the world.
Honoring my Polynesian heritage, I'm choosing to switch teams and finish my career with the island territory of American Samoa.
(Need a refresher on American territories? Here's a John Oliver segment, with a focus on American Samoa starting at 7m30s.)
So, would you like to join for the journey?
"Well, what's in it for a sponsor?"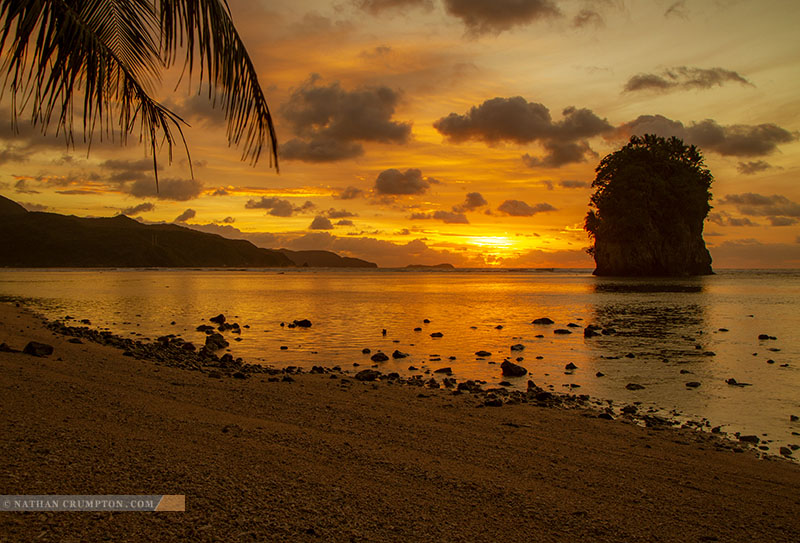 Sunrise over American Samoa... a land not known for winter sports.
Ridiculously cool marketing opportunities for starters! The International Olympic Committee had "Rule 40" challenged and softened by court order. It previously limited a sponsor's ability to market an athlete during the Olympics. But after the change, there are now more ways to advertise a company with Olympic athletes, particulary for smaller companies with less of a global presence. It's a huge new opportunity for lesser known brands to launch themselves onto a global stage.
Moreover, specfic to American Samoa, a sponsor can take advantage of the Polynesian designs which have become decidedly in vogue. From tattoos on celebrities like Dwayne "The Rock" Johnson, to trendy apparel and logo designs, the Polynesian patterns are becoming more recognizable by the day. Leveraging that trend with the global sporting audience that the Olympics attracts has created a lofty goal: To have the coolest apparel designs of any team at the Olympic Games. Regardless of performance, I want the most enduring memory to be the avant garde combination of tropical Polynesian designs against the frozen winter sport of skeleton racing. If there's a podium for sartorial Olympic designs, Team American Samoa will be fighting for the gold medal.
Lastly, there may be a book that comes out of these frostbitten escapades. I've been documenting my 8-year journey in various private blog posts (some light and satirical, others heavy and serious), and I've nearly written enough for a book. Sponsors, partners, and fans have always been an integral part of this collective journey, and they will be characterized in a well-deserved laudatory manner. Proposed title and cover:
(And FYI, the apparel logos can be photoshopped as needed...)
"So what's it gonna take to make this happen?"

St. Moritz World Cup, clocking nearly 84 mph on my sled.
In a word: funding. Olympism doesn't spontaneously appear out of the murcurial ether of wistful hopes and idle dreams. In addition to grit, determination, coaching, sports medicine, and athletic proclivities, it takes careful planning, deliberate resource acquisition, and strategic allocation of the warchest. Luckily, I've been doing the sport long enough to have an optimized strategy in place for warchest allocation. Unluckily, the American Samoa National Olympic Committee is more cash strapped than most third world countries, and cannot provide any direct funding. (As a result, I have no coach this season, and no sports med provider; I'll be traveling solo as a self-funded athlete to all races and I plan on self-coaching.) All of this puts more of the burden on me to raise funds. So...
Do you represent a corporation? Awesome! There are plenty of sponsorship opportunities available! Product endorsement is not only easier with the relaxation of Rule 40, but I've been a professional, agency represented model for the last 8 years too. #Synergy. Ad space is also available on sled, equipment, clothing, websites, and maybe my forehead if the price is right.
Are you a fine art aficionado? Maybe you'd like to purchase one of my Limited Edition Fine Art Nature prints! Or perhaps one of my artist proofs.
Or are you a sporting enthusiast and generous individual who just wants to support the Olympic ideal? That's great too! Anything helps, and with tools like Venmo (@Nic-Crump), Paypal (ikon2003@hotmail.com), or Zelle (nicrumpton@gmail.com) sponsoring has never been easier. And for any individual who donates $100 or more for the season, they'll have their name (or chosen alias) printed out and stuck to the inside of my sled for the 2020 World Championships in Altenberg Germany, which will be televised on an international broadcast on February 27th and 28th. That way you can symbolically slide with me at the biggest race of the year!
There's plenty more that could be discussed with lots of creative partnerships possible, so please don't hesitate to reach out: crumpton@alumni.princeton.edu
Fa'afetai! Mahalo! Asante! Xiexie! Thank you!! And see you on the ice!

Next: Hello Beijing.